Songkran, the traditional Thai new year, is one of the most important events in the Thai calendar. The word Songkran, which comes from Sanskrit, means "to move" or "step forward". It is celebrated during a fixed period on the Gregorian calendar from April 13th – 15th. It is an extended public holiday, allowing people to return to their hometowns for family reunions.
The most famous aspect of Songkran is the water fights and splashing of water. The festival also has many cultural aspects such as Rod Nam Dam Hua and Song Nam Phra. Rod Nam Dam Hua is pouring scented water on the palms of elderly family members to show respect and blessing. Song Nam Phra is a ritual of bathing and cleaning the Buddha statue with scented water. It is the meaning of paying respect to the Buddha and bringing good fortune.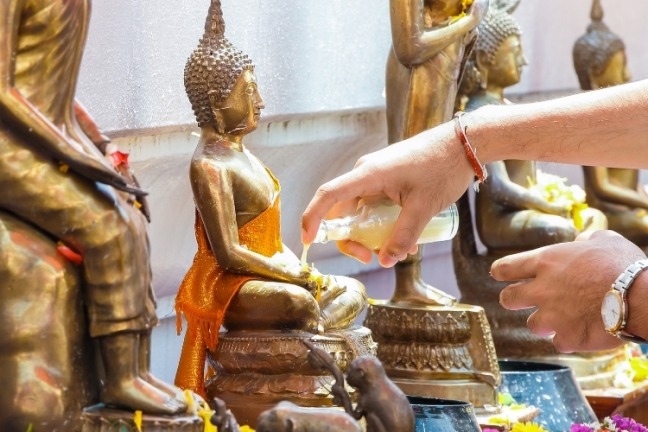 April is the hottest month in Thailand, so Songkran provides a light-hearted way to beat the heat. Prior to the COVID-19 crisis, urban hotspots across the country would be closed off to traffic to allow people to enjoy water fights in the street. The most common street parties are at Silom, along Silom Street, and Khao San Road in Phra Nakhon District.

See more about Bangkok's Downtown shopping list.
These water fights can be a refreshing escape from the heat, and although discouraged nowadays, revelers may smear din sor pong, limestone talc mixed with water, on each other. While the modern celebrations are fun, it's important to remember and honor the traditional cultural aspects of the festival.