9:00 AM
The Grand Palace is a great place to start your day as one of the top tourist destinations in Bangkok trip. The Grand Palace is a collection of stunning structures and temples that originally served as the royal home of Thailand. It's a fantastic location to study the history and culture of the nation.
11:00 AM
Go to Wat Pho, also referred to as the Temple of the Reclining Buddha, after visiting the Great Palace. At 150 feet long, this temple is home to a huge figure of the Buddha. It's a lovely and serene setting where you can explore Buddhism and learn about it.
12:00 PM
Stop by one of the numerous nearby street food sellers for lunch. Just don't pass up the chance to sample some regional cuisine because Bangkok trips are known for its wonderful street food.
1:00 PM
Riding a tuk-tuk to Chinatown is one of the things that must do for the trip to Bangkok. It's a fantastic location for discovering nearby markets, stores, and food carts. Don't forget to sample the well-known "pa thong ko" Chinese-style fried doughnuts.
3:00 PM
After touring Chinatown, stroll a short distance to Pak Khlong Talat, the biggest flower market in the area. You may find a huge variety of flowers and plants there, making it a vibrant and fragrant location.
4:00 PM
Arrive at Wat Arun, also called the Temple of Dawn. This temple is well-known for its magnificent architecture and picturesque city views and is situated on the west bank of the Chao Phraya River. The temple's summit is accessible for a sweeping view of Bangkok.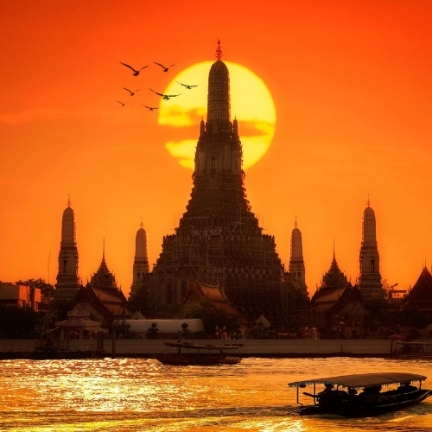 Finally, head to one of Bangkok's many rooftop bars to round off your day at 6:00 PM. The city is home to some of the most incredible rooftop pubs in the entire world, which offer breathtaking views of the city skyline and are wonderful places to unwind with a drink and some food.
With this plan, you should get an excellent overview of what Bangkok has to offer in terms of both culture and cuisine in just one day.

Read one of the famous festivals of Thailand.